GTA SA Call of Duty Series Mil-Mi 24D Hind Mod
The Mil Mi-24, NATO reporting name: Hind, is a large helicopter gunship, attack helicopter and low-capacity troop transport with room for eight passengers. It is produced by Mil Moscow Helicopter Plant and was introduced by the Soviet Air Force in 1972 The helicopter is currently in use by 58 countries.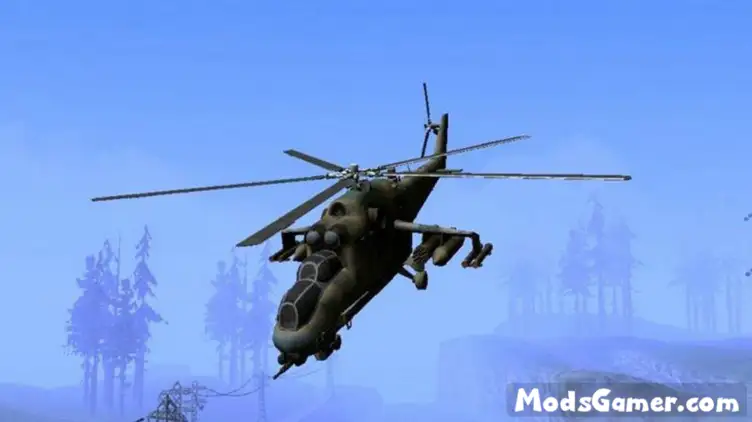 The core of the aircraft was derived from the Mil Mi-8 (NATO reporting name "Hip") with two top-mounted turboshaft engines driving a mid-mounted 17.3 m five-blade main rotor and a three-blade tail rotor. The engine configuration gave the aircraft its distinctive double air intake. Original versions have an angular greenhouse-style cockpit; Model D and later have a characteristic tandem cockpit with a "double bubble" canopy. Other airframe components came from the Mi-14 "Haze". Two mid-mounted stub wings provide weapon hardpoints, each offering three stations, in addition to providing lift. The loadout mix is mission dependent; Mi-24s can be tasked with close air support, anti-tank operations, or aerial combat.