GTA SA Boeing 747 wide-body airliner Mod
The Boeing 747 is a large, long-range wide-body airliner designed and manufactured by Boeing Commercial Airplanes in the United States between 1968 and 2023. After introducing the 707 in October 1958, Pan Am wanted a jet 2+1⁄2 times its size, to reduce its seat cost by 30%. In 1965, Joe Sutter left the 737 development program to design the 747, the first twin-aisle airliner. In April 1966, Pan Am ordered 25 Boeing 747-100 aircraft, and in late 1966, Pratt & Whitney agreed to develop the JT9D engine, a high-bypass turbofan. On September 30, 1968, the first 747 was rolled out of the custom-built Everett Plant, the world's largest building by volume. The first flight took place on February 9, 1969, and the 747 was certified in December of that year. It entered service with Pan Am on January 22, 1970. The 747 was the first airplane called a "Jumbo Jet" as the first wide-body airliner.
The 747 is a four-engined jet aircraft, initially powered by Pratt & Whitney JT9D turbofan engines, then General Electric CF6 and Rolls-Royce RB211 engines for the original variants. With a ten-abreast economy seating, it typically accommodates 366 passengers in three travel classes. It has a pronounced 37.5° wing sweep, allowing a Mach 0.85 (490 kn; 900 km/h) cruise speed, and its heavy weight is supported by four main landing gear legs, each with a four-wheel bogie. The partial double-deck aircraft was designed with a raised cockpit so it could be converted to a freighter airplane by installing a front cargo door, as it was initially thought that it would eventually be superseded by supersonic transports.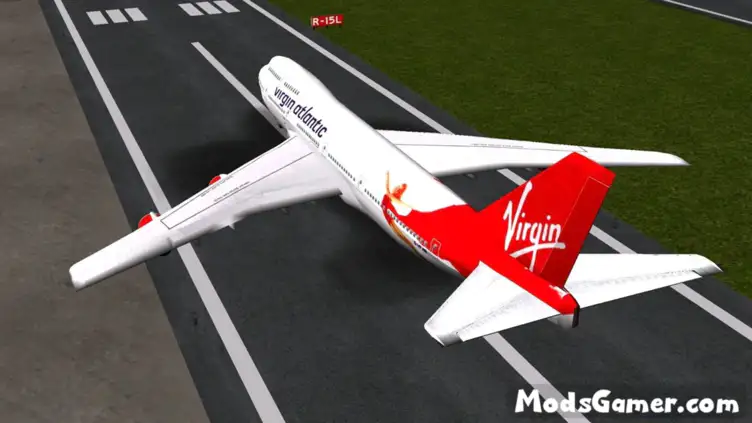 The plane's paint indicates that the plane in this mod belongs to Virgin Atlantic, a British airline with its head office in Crawley, England. The airline was established in 1984 as British Atlantic Airways. Virgin Atlantic uses a mixed fleet of Airbus and Boeing wide-body aircraft and operates to destinations in North America, the Caribbean, Africa, the Middle East and Asia from its main hub at London–Heathrow and its secondary hub at Manchester. The airline also operates a seasonal service from Edinburgh. Virgin Atlantic aircraft consist of three cabins: Economy, Premium (formerly Premium economy)and Upper Class (business).