Melon Sandbox Playground Yakovlev Yak-15 turbojet fighter Mod
The Yakovlev Yak-15 was a first-generation Soviet turbojet fighter developed by the Yakovlev design bureau (OKB) immediately after World War II. The main fuselage was that of Yakovlev Yak-3 piston-engine fighter modified to mount a reverse-engineered German Junkers Jumo 004 engine. The Yak-15 and the Swedish Saab 21R were the only two jets to be successfully converted from piston-power to enter production. 280 aircraft were built in 1947.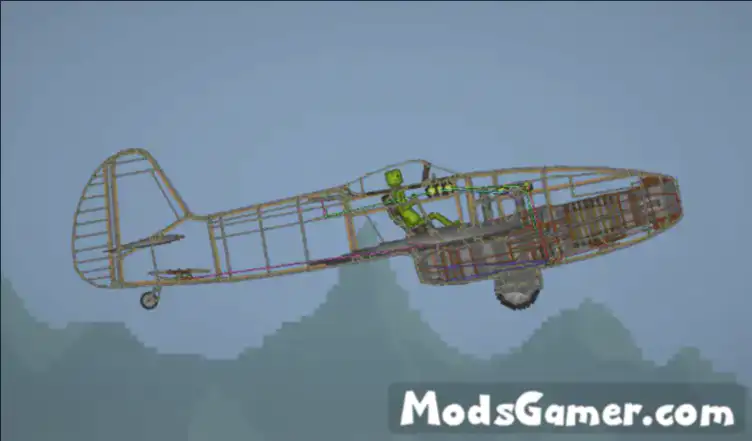 On 9 April 1945, the Council of People's Commissars ordered the Yakovlev OKB to develop a single-seat jet fighter to be equipped with a single German Jumo 004 engine. To save time, Yakovlev based the new design (known as the Yak-3-Jumo or Yak-Jumo) on the latest version of his successful Yakovlev Yak-3 piston-engined fighter. The piston engine was removed and the jet engine was mounted underneath the forward fuselage so that its exhaust exited underneath the middle of the fuselage.
To protect the fuselage, a steel heatshield was added to its bottom. The deeper forward part of the fuselage caused the configuration of the aircraft to resemble a "pod-and-boom". Very few changes were made to the metal fuselage other than at the aircraft's nose. This was recontoured to accommodate the armament of two 23-millimeter (0.91 in) Nudelman-Suranov NS-23 autocannon, an additional fuel tank above the engine and the engine itself. No changes were made to the wings other than the elimination of the air intakes for the oil cooler and the bending of the front wing spar into an inverted U-shape to clear the engine. The vertical stabilizer was slightly enlarged, but the tailplane was unmodified. The conventional landing gear was also unmodified other than the tailwheel which now used several steel leaf springs as shock absorbers. The Yak-Jumo carried a total of 590 kilograms (1,300 lb) of fuel.
Mod feature:
FLIES SMOOTHLY
THERE IS AN ENGINE

CHASSIS SLIDES IN AND OUT

FOR SMOOTH FLIGHT,SLIDE THE LANDING GEAR IMMEDIATELY AFTER TAKE OFF