Star Wars V1.5 Zombies Mod
Mods name:
Star Wars V1.5 Zombies Mod
Author:
modsgamer Minecraft mods
Update:
Wed Nov 15 18:41:14 CST 2023
Suitable game version:
1.20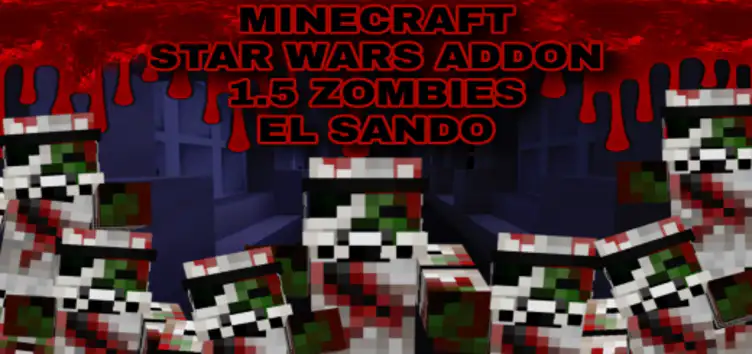 Embark on an Intergalactic Adventure with the Star Wars Addon for Minecraft
Delve into a galaxy far, far away with the Star Wars Addon for Minecraft, an immersive mod that transforms your Minecraft world into the epic realm of Star Wars. Engage in thrilling battles against the menacing forces of the Dark Side, forge alliances with iconic heroes of the Resistance, and explore uncharted territories filled with danger and excitement.
Key Features:
Encounter a Diverse Array of Star Wars Characters:

Battle against formidable foes like Darth Sidious, Darth Vader, Darth Maul, and General Grievous

Seek guidance from legendary Jedi Masters like Yoda, Obi-Wan Kenobi, and Ahsoka Tano

Join forces with valiant heroes such as Anakin Skywalker, Rey, Luke Skywalker, and Han Solo

Wield Powerful Lightsabers and Blasters:

Engage in lightsaber duels, replicating the iconic combat from the Star Wars universe

Utilize various blasters, each with unique firing properties, to eliminate your enemies

Encounter Terrifying Creatures and Vehicles:

Face the fearsome Rancor, a monstrous beast from Jabba's Palace

Dodge attacks from Tie Fighters, the signature starfighters of the Galactic Empire

Pilot the Millennium Falcon, the legendary ship captained by Han Solo and Chewbacca

Explore a New Official Map Based on Planet Scarif:

Immerse yourself in the breathtaking landscapes of Planet Scarif, a key location from the film Rogue One

Discover hidden secrets and uncover new challenges within this expansive map
Additional Details:
This addon requires experimental mode to be enabled.

New mobs spawn naturally in all biomes, transforming your world into a battleground between the First Order and the Resistance.

The addon includes music, sounds, and textures to enhance the Star Wars experience.

Performance issues can be mitigated by removing mob generation in world options or using the command "/Kill @e" in the chat bar.
Safety Guidelines:
Please note that this addon contains depictions of violence and combat, which may not be suitable for all audiences.

It is recommended to exercise caution when engaging in battles against powerful enemies, as they can pose a significant threat.

Always be mindful of your surroundings and avoid venturing into dangerous areas unprepared.
Download the Star Wars Addon today and embark on an unforgettable galactic adventure filled with epic battles, captivating characters, and thrilling exploration! May the Force be with you!
How to use mod

- Install Behavior and Resource Pack
- Activate experimental game feature
All mods on modsgamer.com comes from user contributions and Internet, if you think there is any infringement, please let us know at ModsGamerOfficia[email protected], thank you!
How to Use
1. Open modsgamer.com
2. Select the mod you want and download
3. After download finished, you will get mod file want
4. After extracting the mod file, please place the corresponding file in the following folder