Relive the Golden Age of Racing with the 60s F1 Addon
Relive the exhilarating era of 1960s Formula One racing with this captivating addon, which introduces five iconic F1 cars from that remarkable period. These meticulously crafted vehicles embody the spirit of innovation and speed that defined the era, transporting you back to the golden age of motorsport.
Mod details

The F1s has the following characteristics:
Acceleration – Car speed increases over time (nVAS system)
Immersive sound effects – Refer list below
Dynamic hitboxes – Deals damage to entities that are ran over at a certain speed
Car explosion – Car explodes when destroyed
Advanced animations – Working gauges, wheels and steering wheels


Lotus
Lotus-Climax 33 (1965)
Lotus 49 - Gold Leaf (1967)
Ferrari
Ferrari 312 (1966)
Honda
Honda RA272 (1965)
McLaren
McLaren M7A (1968)
Just right click the damn F1 to get in and drive away


Immersive Sound Effects
In total there are 3 sound effects for the cars. The list are as follows:
Startup sound effect - When the player sits in the car

Advanced driving sound effect - When the player drives the car

Custom car damage sound - When the car is damaged / takes a hit
How to obtain
Method 1: Get their spawn eggs from the Creative Inventory. You can search "F1 60s" for a more convenient way of obtaining them. They are classified as spawn eggs.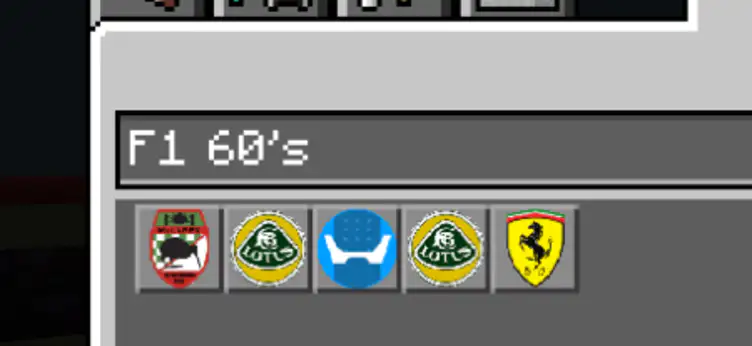 Method 2: Use /summon commands:
/summon lotus:n33
/summon lotus:n49
/summon ferrari:n312
/summon honda:ra272
/summon mclaren:m7a

How to use mod

- Install Behavior and Resource Pack
- Activate experimental game feature